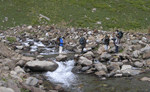 Duration:
15 Days 14 Nights

Region:
Lahaul - Spiti

Season:
May to September
Day 1: Manali - Sethan (3000m)
Manali to Prini by taxi. Walk starts from Prini village with its old temple, through apple orchards. Camp at Sethan, away from the village. O/N in tents at 9300 ft.
Day 2: Sethan - Chikka (3360m)
Beautiful walk to Chikka - around 12 kms. The place is known for caves and good rocks for climbing. One full day can be spent here. To see Indrasan, Deo Tibba, and Inderkilla climb up to the top of the ridge. Return back to the camp.
Day 3: Chikka - Shiya Garu
Walk up the hill, getting a bird's eye view of Kullu valley. A breathtaking sight of deodar forests, green meadows and terraced fields from a height. Over Hampta Pass get panoramic views of Deo Tibba peak, Inderkilla and Inderasan peaks. O/N in camp
Day 4: Shiya Garu - Chatru (3360 m)
Descend to Chatru, 10, 416 ft. As you enter the Spiti Valley there is a noticeable difference in the vegetation and terrain compared to the other side of the Hampta Pass. O/N in camp.
Day 5: Chatru - Chotta Dara (3690m)
This is a rugged valley along the right bank of the Chandra River. Walk beside the river and view the Bara Shigri glacier on the other side. Wonderful view of high passes.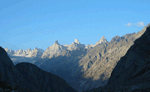 Day 6: Chotta Dara - Batal (3960m)
Batal is situated at the base of Kunzum Pass, which provides the main approach to Spiti from Lahaul. Walk beside the Chandra River with views of Bara Shigri glacier. The view of Shigri stream emerging from beneath a huge iridescent archway is a never to be forgotten sight. Camp in a meadow.
Day 7: Batal - Chandertal (4270m)
Gradual climb which levels off near the Chandertal Lake. The Lake is famous for its high-altitude beauty and calm scenery. It covers a large basin and is one of the highest lakes in the world containing fish. This beautiful lake is called Lake of Moon. O/N camp near the lake.
Day 8: Full day at Chandertal
Day at leisure in Chandertal to explore the surroundings areas as we acclimatise and enjoy the peaceful atmosphere of the lake. O/N camp.
Day 9: Chandertal - Topko Yongma (4400m)
Early in the morning before leaving Chandertal one can again see the glaciers, high peaks & ranges. Fairly easy trek following the river Chandra to Topko Yongma. There is a big stream crossing enroute. O/N at Camp.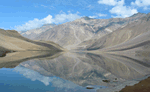 Day 10: Topko Yongma - Topko Gongma (4640m)
Another day following the river Chandra with a gradual climb, the route offers some superb views of Mulkila mountain range. Awesome hanging glaciers are visible on all sides. O/N camp.
Day 11: Topko Gongma - Base of Baralacha Pass (4883m)
Fairly easy trek with panoramic views of the high mountain ranges which are all above 20,000 ft. The valley leading to Baralacha is very wide with grassy meadows. The Baralacha Pass gives rise to three rivers - Chandra, Yunam and Bhagha.
Day 12: Full day at Baralacha
O/N Camp.
Day 13: Baralacha - Zingzing Bar (4270m)
It takes about 4 hrs to reach Zingzing Bar from Baralacha after visiting Suraj Tal. Suraj Tal is another beautiful lake in these mountains, which is the source of Bhagha River. Descend alongside the Bhagha river through short cuts. O/N camp at Zingzing Bar.
Day 14: Zingzing Bar - Darcha (3360m)
Come down to Darcha via Patseo. Patseo had once been a large trading/exchange place for traders from India and Tibet in olden times. From Darcha one route leads to Leh over Shingo la through Zanskar Valley. O/N camp at Darcha.
Day 15: Darcha - Manali
drive to Manali by taxi/coach. O/N at hotel in Manali.