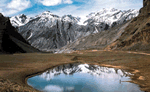 Duration:
7 Days 6 Nights

Region:
Kullu - Manali

Season:
May to September
This trek leads to the Chandertalai, a high-glaciated lake and is not to be confused with the Lake of the Moon (Chandertal) in the Spiti Region.
Day 1:
Manali - Jagatsukh - Khanol (2020m)
The trail winds upwards alongside the Duhangan Nala to Khanol, which is the first day's campsite. The Manali valley appears far below and to the east lies the towering Deo Tibba mountain. Along the way to Khanol green forests with an amazing variety of vegetation can be seen. Camp at Khanul.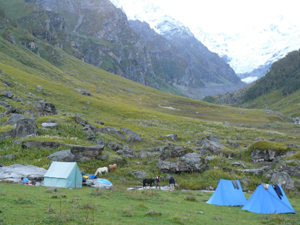 Day 2:
Khanol - Chikka (2960m)
The 6 kms long trail goes along an alpine plateau on a gradual incline. Camp at Chikka.
Day 3:
Chikka - Seri (3390m)
The trail continues uphill for 5 kms and the sudden appearance of Deo Tibba is breathtaking. Seri was once a glaciated lake, but is now a meadow carpeted with an astounding variety of herbs and alpine flowers. Camp in the fairyland beneath a clear blue sky twinkling with millions of stars. Camp at Seri.
Day 4:
Seri - Chandertal - Taini Alpine Plateau (4570m)
You have two options both with the short climbs involved. Flora enthusiasts will have a wonderful time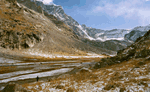 trying to identify the hundreds of flowers growing everywhere and the Chandertalai lake provides some excellent views of Deo Tibba and other peaks of Manali and Spiti ranges. Camp at either place.
Day 5:
Chandertal - Seri
Return the same way to Seri. Camp.
Day 6:
Seri - Chikka
Leaving this wonderful land behind, the trail descends downward back through the forests that lie above Manali leading to Chikka. Camp.
Day 7:
Chikka to Manali
Return by the same route to Manali from where you take surface transport back to Delhi.