Towards the western end of the Himalayas a series of continuous mountain ridges, comprising scores of 6000 metre (20000 foot) peaks, forms an effective barrier between the Indian provinces of Lahaul and Ladakh. Linking these contrasting mountainous regions is a trekking route that provides one of the great challenges of the Indian Himalaya. Transferring by train and car from Delhi, we pass through the lush Kulu Valley and cross the Rohtang Pass to reach the start of our trek at Darcha. From here, we head north across the Shingo La (c.5100m./16000ft.) into the ancient kingdom of Zanskar, famous for its hardy inhabitants and starkly beautiful landscape. En route, we encounter a succession of isolated villages and several wonderful Buddhist monasteries, notably at Phuktal, Lingshet and Lamayuru. As a finale to what is unquestionably one of the world's classic trekking experiences, there is also time to explore the fascinating Ladakhi capital of Leh.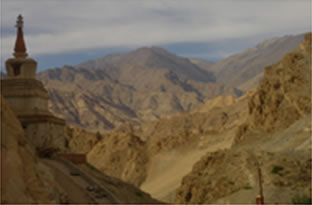 Day 01): Delhi - Chandigarh - Kullu - Manali (2050 mts) (3 hrs by Train and 8 hrs Drive)
New Delhi to Chandigarh by Shatabdi and further transfer to Manali. Evening exploration of Manali mall road, overnight at hotel.

Manali is an important hill station of northern India and is the destination of thousands of tourists every year. Its cool atmosphere provides a perfect haven for the ones afflicted by the hot Indian summers. The Kulluis in brightly patterned puttoos, Tibetan women wearing ankle-length rainbow-striped pinafores, Nepali porters, Buddhist monks, and even the odd party of Zanskaris, swathed in fusty woolen gonchas, muddled together with souvenir-hunting Indian and Western tourists-all add up to the welcoming hubbub of Manali.

Day 02): Manali (Local sight seeing)
Hadimba Temple: Manali has many attractions but the chief centre of interest, historically and archeologically, is undoubtedly the DHOONGRI TEMPLE dedicated to goddess Hadimba

Manu Temple: 3 kms. from the main bazar in old Manali lies the temple of MANU RISHI. It is believed that this is the only temple of Manu in India, who was the creator of human race on the earth.

Tibetan Monasteries: There are 3 newly constructed colorful monasteries, where visitors can buy carpets and other Tibetan handicrafts. Two are located in the town and one at the left bank of Beas river.

Vashist Hot Water Springs And Temple (3 Kms): Vashist, a small village located on the left bank of river Beas towards Rohtang pass is worth a visit. It is renowned for its hot springs and temples. Nearby is the pyramidal stone temple dedicated to Vashist Muni.
Day 03): Manali - Darcha (3,300 mts.) (147 Kms/7-8 hrs drive).
After breakfast drive to Darcha. Across Rohtang Pass(3,980 mts.) which is the gateway to Lahual, Spiti, Pangi & Zanskar Valleys. 8 hours drive through Lahual valley. Overnight at Camp.

Day 04): Darcha (Trek Starts) - Pa Lahmo 3,450 mts.) 4 hrs (
After breakfast trek to Pa-Lahmo.o/n camp. Darcha is the last village of Himachal Pradesh on the way to Leh. It is the starting point of Darcha to Padam trek.

Day 05): Pa Lahmo - Zanskar Sumdo (3,600 mts.) 7 hrs
After breakfast trek to Zanskar Sumdo. o/n camp.

Day 06): Zanskar Sumdo - Chumik Nakpo(4,060 mts.) 7 hrs
After breakfast trek to Chhumik Nakpo. Walk towards the stream flowing from Shingo-La. o/n camp.

Day 07): Chumik Nakpo - Lakhang Over Shingo La(4,060 mts.) 9 hrs
After breakfast trek to Lakhang over the Shingo-La Pass. Over night Camp.

Day 08): Lakhang - Kargakh (4030 mts.) 6 hrs
After breakfast trek to Kargiak. Over night Camp. Passing beneath the face of the Gomborangoo, descent easily towards Kargiak on the right bank. The first village of Zanskar Region.

Day 09): Kargakh - Purni (3,700 mts.) 6 hrs
After breakfast trek to Purni. O/n camp.

Day 10): Purni - Phuktal - Purni (5 hrs)
After breakfast trek to Phuktal Monastery built under a huge cave and back to camp. Over night Camp.

Phuktal Monastery, one of the most spectacular sights in Zanskar. Phuktal belongs to the tradition of the Gelupas(yellow-Hat Monks).The monastery is like a honeycomb, cut into a cock under a gignantic grotto, and has 70 monks. in the caves over the monastery, there is a water hole whose water level never receds, even after taking out any amount of water from there. Water is said to have healing powers.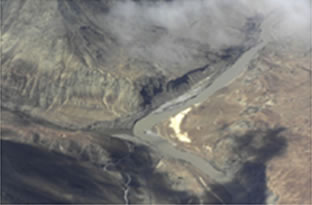 Day 11); Purni - Pipula (3650 mts) 5 hrs
After breakfast trek to Pipula. Over night Camp.

Day 12): Pipula - Raru (3,600 mts.) 6 hrs
After breakfast trek to Raru. Over night Camp.

Day 13): Raru - Padam (3,500 mts.) (Trek Ends) 6 hrs
After breakfast trek to Padam. Padam is a Sub-divisional Head Quarter of Kargil district of Jammu and Kashmir. Visit Bardan Gompas, one of the oldest gompa in the region. trek ends here o/n camp.
Once the capital of the ancient kingdom of Zanskar, Padum (3505 m) is the present day administrative headquarters of the region.With a population of nearly 2000, Padum can be described as the most populous settlement of Zanskar, otherwise a very scarcely inhabited valley. Incidentally, it is only in Padum that there is a community of Muslims constituting nearly half the township's population, its origin in the area dating from mid 17th century. Lately, Padum has become a famous as a major trekking base and a popular tourist destination.

Day 14): Padam - Kargil (2704 mts.) 240 Kms/8 hrs Drive
After breakfast drive to Kargil. Overnight Hotel.

KARGIL (2704 m) 204 kms from Srinagar in the west and 234 kms from Leh in the east, is the second largest urban centre of Ladakh and headquarters of the district of same name. A quite town now, Kargil once served as important trade and transit centre in the Pan-Asian trade network. Numerous caravans carrying exotic merchandise comprising silk, brocade, carpets, felts, tea, poppy, ivory etc. transited in the town on their way to and from China, Tibet, Yarkand and Kashmir. The old bazaar displayed a variety of Central Asian and Tibetan commodities even after the cessation of the Central Asian trade in 1949 till these were exhausted about two decades back. Similarly the ancient trade route passing through the township was lined with several caravanserais.

Day 15): Kargil - Leh (3505 Mts) 234 Kms/8 hrs Drive
After breakfast drive to Leh. Over night Hotel.

Leh: Leh is the fascinating capital of the Autonomous Hill Council of Ladakh, also known as Little Tibet. The important monasteries to visit in and around Leh are Shey, Thiksey, Hemis, Spituk, Samkhar as well as the Shanti Stupa, Stok Palace and main Bazaar. The Leh palace dominating the town was the former home of the Namgyal Dynasty. The monastic festivals are very popular and Hemis, Phyang and Lamayaro festivals in summer are visited by lot of tourists who throng to see the Cham Dances.

Day 16): Leh (Local sight seeing)
Fullday visit of Hemis/Shey and Thiksey monastery. Leave after breakfast for fullday visit of Hemis/Shey and Thiksey monastery. Pack lunch will be served. Overnight in Hotel.

Shey - the former palace of upper Ladakh before Leh was established, this site commanded an important vantage over the Indus valley. Since 1834 however, after the royal family moved to Stokh, much of the palace and fort fell into disrepair; even the marshland immediately below was once a clear lake.

Thiksey - one of the most imposing monasteries in the Indus valley, Thiksey was part of the original Delgupta order in the 15th century. The monk's quarter's stretch right the way along the hillside beneath the main assembly hall. The library at Thiksy is supposedly one of the finest in Ladakh and a multi - denominations Gompa has recently been constructed - proof indeed of the continuing vitality of Buddhism in Ladakh

Day 17): Leh (Local sight seeing)
Local sight seeing.

Leh Palace: The palace is a distinguished monument and a historical building.The nine- storeyed palace was built by the 17th century illustrious ruler of Ladakh Sengge Namgyal.

Jama Masjid: The historical mosque is situated in the heart of Leh town. It was built in 1666-67 A.D.consequent to an agreement between the Mughal Emperor Aurangzeb and then ruler of Ladakh, Deldan Namgyal.

Spituk: The gompa stands prominently on the top of a hillock,8 Kms.from Leh,and commands a panaoramic view of the Indus Valley for miles.Many icons of Buddha and five thankas are found in 15th century monastery.There is also a collection of ancient masks,antique arms,and an awe inspiring image of Mahakal.

Phyang: The monastery is situated 17 Kms.from Leh on the Leh-Kargil road.It was built by Tashi Namgyal in the later half of the 16th century A.D.and looks like a place from a distance.The gompa belongs to the Red Cap sect of the Buddhists. Hundreds of icons of Budha are kept on wooden shelves.

Day 18): Leh - Delhi
In the morning fly back to Delhi.