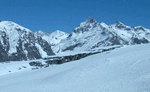 Tour No. 1: Snow Point
Nehru Kund:
6 kms from Manali. A spring of cold water named after the Late Prime Minister Shri Jawahar Lal Nehru. This cold water is supposed to be extremely good for health.
Solang Valley:
(Option Charges Extra). A beautiful picnic spot. Nice meadows surrounded by trees of silver oak and spruce. Excellent ski slopes with a small rope way. Beautiful panorama of snow clad mountains. Horse riding can also be enjoyed. In summer there's paragliding and in the winter- skiing.
Kothi:
15 kms from Manali. A quiet and picturesque spot with views of towering snow clad mountains. The site of the bridge provides an interesting historical episode in the early annals of Kullu.
Gulaba Camp:
20 kms from Manali. It is a peaceful spot with meadows and a profusion of wild flowers. Ideal for sight seeing, picnic and photography.
Rahla Fall:
27 kms from Manali. Here the river Beas cascades down from a height of about 50m. Charming place for picnic.
Marhi:
35 kms from Manali. Famous for its natural beauty. It is a popular place for a stop enroute to the Rohtang pass. There are a number of small cafes and Dhabas offering Breakfast, lunch and cold drinks.
Rani Nala:
46 kms from Manali. It is a glacier point with snow found here round the year.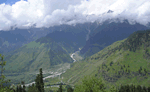 Rohtang Pass:
51 kms from Manali. The first pass on the Manali Leh Highway it offers skiing andsnow scooter rides. It also has ample trekking opportunities at an altitude of 4112m. The Pass affords a wide spread panorama of mountain scenery almost directly opposite to the well defined Sonepani glacier slightly left tothe Twin Peaks of Geyphan.
Tour No. 2: Naggar
Jagatsukh temple:
Famous Shiva Temple in the Shikhara style and interesting old temple of Gayitri Devi and Sharvali built by the Pandavas.
Naggar Castle:
It is the old capital of Kullu with an ancient castle built by Raja Bhosal. It has been converted into a hotel under the HPTDC. From the castles balconies you get extensive views of terraced fields and apple orchards below.
Roerich Art Gallery:
In Naggar also is the Roerich Art Museum, which houses a collection of the paintings of the Russian Artist Nicholas Roerich.
Tour No. 3: Manikaran
Vaishno Temple:
A small cave and shrine with an image of Goddess Vaishno. Other temples are dedicated to Lord Shiva, Rama and Krishna.
Angora Rabbit Farm:
5 kms from Kullu where different varieties of Angora Shawls are available at reasonable rates. Kullu Shawls Weaving Industries: Hand woven shawls and other handicrafts, wall hangings, Kullu caps, mufflers and jackets.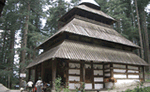 Kasol Valley:
Charmingly located in an open space, which slopes down to a broad expanse of clear white sand at the edge of river Parvati.
Manikaran:
Famous for its hot water springs. Hot water springs on the river Parvati trace their origin to a legend. The water is so hot that Dal, Rice etc. can be boiled on it. A well-known place on account of ancient Hindu Temples and a Gurudwara. According to a legend Manikaran is also associated with Lord Shiva and his divine consort Parvati who lost and recovered her earring here.
Tour No. 4: Local Sight Scene
Hadimba Temple:
Built in 1550 A.D. in a forest grove. Hadimba Devi's Temple is furnished with a Pagoda shaped roof and a front door way covered with figures and symbols.
Club House:
A beautiful building covered with landscaped lawns. A little ahead is the confluence of the Manalsu stream and the Beas River.
Tibetan Monastery:
A small monastery in a peaceful clearing has an image of Buddha and some exquisite thankas. Famous for carpet weaving and Tibetan handicrafts.
Vashisht Temple:
A fair size village on the left bank of the river Beas. Renowned for its hot sulphur water spring and temple of Vashisht Rishsi and Lord Rama.
Manu Maharishi Temple:
Situated in Old Manali village at a distance of 2 kms from the bus stand. This is the only temple of Manu who is the great Hindu lawgiver. It is approachable by road.