Duration:
23 Days 22 Nights
Region:
Zanskar / Ladakh
Season:
June to Mid-October
This is one of the classic hiking tours through valleys, high mountain passes - most of them over 5000m. This trek is one of the lifetime experiences.
Day 1:
Manali - Darcha - 7 hours
Start early from Manali for Darcha by car/bus.
Day 2:
Darcha – Pallamo Camp – 3/4 hours
From Darcha follow the pleasant track until the last hamlet. Pass a spectacular gorge. Continue along the left bank of the rivulet. Camp one hour beyond the ford in a grove of poplar.
Day 3:
Pallamo - Zanskar sundo Camp - 4/5 hours
Pallmo to Zanskar sumdo is very easy walk on the river bank until the Camp. With very nice view and mountains and very clean water which we can drink.
Day 4:
Zanskar sundo – Chumick Nagpo Camp - 5/6 hours
Zanskar sumdo to Chumick Nagpo is very hard walk until the camp. But there is very cold if the weather is not good. You must take warm cloth.
Day 5:
Chumick Nagpo – Lakhang Camp - 6/7 hours
At night camp of Chumick Nagpo is very cold it is base camp of Shinkur-La. Chumick Nagpo to Lakhang day also very hard walking after 3 hr walking from Chumick Nagpo we can reach at Shinkur-La top. From the top we can see the good view of Gonbo Rangjhon which is very famous and Gonbo Rangjhon mean is Buddha Maha-Kala in Buddhism culture.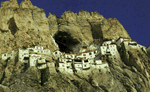 Day 6:
Lakhang Camp - Table - 6 hours
Climb down a mass of fallen rocks, and then ford several streams. After one hour, you pass below the face of Gonbo Rangjhon from where an easy descent leads to Kargyak (4100m) on the right bank. Two hours after Kargyak you reach the Table campsite.
Day 7:
Table - Purne - 6 hours
From Table, continue on the right bank along an easy path reaching Tanze. Tanze is a small village with a Gompa in rums a bit higher up. A short distance beyond Tanze there is a bridge across to the left bank. Walk over moraine leading to Karu. Afterwards an excellent path leads steadily to Tela (4 hours) a beautiful village. The path continues downwards near the river as we stay on the left bank. Then climb a gentle slope up to Jal.Next comes a steep descent towards a large bridge, which you cross to get to Purne. Stay at camp.
Day 8:
Purne - Phuktal - Purne - 4 hours
Arrive at a small tributary flowing into the Tsarap Chu with beautifully clear water cascading down. A ledge leads to a small plateau sprinkled with chortens and religious banners. From here you can see the Phuktal Monastery, one of the most spectacular Gompas in Zanskar. Phuktal belongs to the tradition of the Gelukpa (yellow hats). Return to Purne.
Day 9:
Purne - Ichar - 5/6 hours
From Purne walk backwards to cross a bridge. The trail that overhangs the Tsarap is sometimes tricky and hard going. Frequent small canyons of pudding stones. Pass a bit above the hanging bridge, which leads to the village of Cha. Two hours later, you arrive at Kaydang, a small village in a poplar grove. Carry on until Hanumi Pass below the village of Surle. Arrive at a large bridge, which leads to Ichar. Camp at Ichar.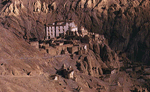 Day 10:
Ichar - Mune - 5 hours
Cross back to the left bank, then take a gradual climb before coming to a major tributary (bridge). Gradual descent down towards Reru, and a beautiful plain covered with flowers (July). Camp at Mune.
Day 11:
Mune - Padum - 5 Hours
From the monastery go down a steep incline to the main trail. After two hours, you arrive at Bardan Gompa, a Kagyukpa monastery famous for its prayer wheel (180 cm high). Several beautiful villages on the opposite bank. Camp at Padum.
Day 12:
Full day rest

Day 13:
Padum - Karsha - 3/4 hours
From Padum head towards Pipiting, then a dusty plain towards the Doda river. Pass a bridge over the River Doda, and then climb towards Karsha. Hotel at the entrance of the village. Beautiful Gelukpa Monastery dates from 15th century. Camp at Karsha.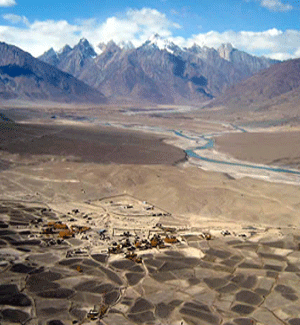 Day 14:
Karsha - Pishu - 5 hours
An easy but dusty trek alongside the Zanskar River. Above Rinam there is a small stream and shelter formed by the rocks. Before Pishu, make a little detour to see the longest hanging bridge over Zanskar River (55m). It leads to Zangla (From Zangla a trail goesto Padum via Tsar and Thongde). Attractive campsite below the village of Pishu. O/N camp at Pishu.
Day 15:
Pishu - Hanumil
Continue on the left bank. Easy going alongside the river, sometimes across a moraine plateau. After crossing a bridge, Pidmo is reached. From here another 2 hours until Hanumil. Very good campsite 100m past two houses. Camp at Hanumil.
Day 16:
Hanumil - Parfi-la - Snertse - 6 hours
After a steep and difficult climb you come to Parfi-la 3/4 hours beyond Hanumil with a small stream on the left. Replenish supply of water. The trail leads away from the edge of the Zanskar up to a plateau, then to the base of the pass. A Steep climb to Parfi-la (3000m). A 4 hour journey and rather steep descent till reaching the Oma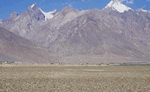 Chu River. After crossing a bridge reach sandy slopes. Then walk along the slope as far as the sheepfold of Snertse. Camp at Snertse.
Day 17:
Snertse - Hanuma-la - Lingshed - 7 hours
Long gradual ascent towards the Hanuma-la through gorges. Pass a sheepfold to reach the summit of Hanuma-la (4700m). Initially a steep descent then a climb along the mountainside. From this small pass, descent is easy towards Lingshed (3800m). Campsite is near the Gelukpa style monastery. Camp at Lingshed.
Day 18:
Full day rest.
Day 19:
Lingshed -Base of the Senge-la - 6 hours
Easy climb to Murgum-la (4200m) -one hour. Continuous climbing passing an escarpment. Then go along the slope. Landscape is awesome with a beautiful view of the Niereg valley on the other bank of Zanskar. Gentle descent towards the village of Gongma (3840m) and Skiumpata. Then a very steep climb as far as the Kiup-la (3850m). Then climb gradually along the mountainside up to the base of Senge-la. Camp at Senge-la.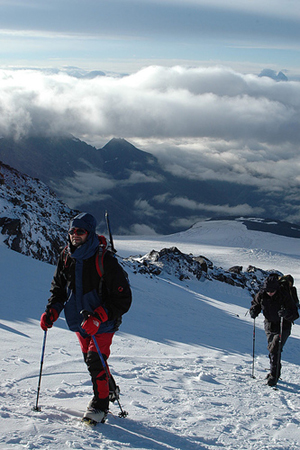 Day 20:
Foot of Senge-la - Senge - Photoksar - 7 hours
Rather steep 1-2 hour climb to the Senge-la at an altitude of 5000m. Then a short slope leads into a broad valley. It is easy going first then a gentle climb towards the Bhumiktse-la (4200m) with excellent views. Then descend towards Photoksar (3750m), a splendid village at the base of a huge mountain wall. An abandoned Gompa is little away from the village. O/N camp.
Day 21:
Photoksar - Sirsir-la - Hanupatta - 6 hours
From the village a gentle climb up to a large Chorten. Then a long ascent to Sirsir-la. The last stage is steep. Pass is situated at 4800m. Easy descent to the river. Then long descent into a stony valley, a short distance before the village of Hanupatta. O/N camp.
Day 22:
Hanupatta - Wanla - 5 hours
From Hanupatta continue across the slope until entering gorges. At the junction of two rivers, a Chorten and religious banners on a flat are seen. Pass a ridge then go down until reaching a bridge across the Yapola. Then a few easy and some difficult stretches until you reach Pensi-la (3 hrs). A little beyond the village cross a bridge on the left bank. Continue on a flat stretch of land till you reach Wanla with its beautiful Gompa. O/N camp.
Day 23:
Wanla - Lamayuru - 3 hours
Go up the Shilkakong along the right bank, cross the bridge and then arrive at the Shilla Pass. Go to a broad chorten then follow a narrow and dry gorge as far as the Prinkiti-la (3276m). Easy descent by passing an escarpment. Cross the river and move towards the village of Lamayuru. Short climb towards the monastery, which is the most photographed in Ladakh. Overnight.