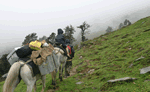 Duration:
6 Days 5 Nights
Region:
Kullu - Manali
Season:
May to October
Day 1:
Manali/Naggar to Nawan Tapru: Drive 24 kms. Walk about 6 Kms.
Trek starts from Naggar- 21 kms from Manali. Delightfully situated on a wooded slope and commanding an excellent view of the valley. Naggar is famous for its temples, ancient castle and the Roerich Art Museum. It was once the capital of Kullu valley. Initially a gradual walk through Pine and Cedar forests, apple orchards and meadows and later a walk up hill till the campsite at Nawan Tapru. Camp overnight.
Day 2:
Nawan Tapru - Chanderkhani (3500m) 8 Kms.
Climb gradually to the top of the pass where you get striking views of the Deo Tibba peak and other mountains of the Spiti ranges overlooking the Malana Glen.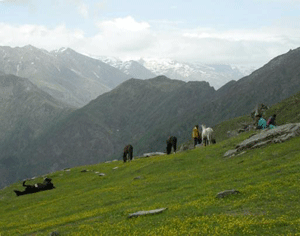 Camp near the pass.
Day 3:
Chanderkhani - Malana - 7 Kms.
Malana is said to be one of the oldest democracies in the world. According to a legend the village is home to the descendents of the soldiers from Alexander's army. In the village one can see carvings of soldiers in full length armoured dresses. Indian soldiers used to wear only half-length armoured dress but never full length armoured dresses, which reach the knees. Habitats of Malana are unusual in appearance with sharp features, narrow eyes and dark bronze skin which is similar to Greeks. An ancient temple is situated in middle of the village and no one is allowed to touch the sacred stones there. Camp at Malana.
Day 4:
Malana to Rashol (2598m) - 19 kms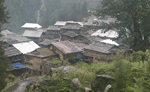 Malana to Rashol involves a steep walk and from Rashol you get wonderful views of the Pin Parvati range of mountains.
Day 5:
Rashol to Kasol (1585m) - 8 kms
Steep descent from Rashol to the Kasol campsite. This small village nestles on a hillside shelf high above the Parvati River. From Kasol one can visit the famous hot water springs at Manikaran. There are a few ancient temples at Manikaran. Camp/Hotel.
Day 6:
Kasol to Manali/Naggar - 60 kms
Transfer by car/bus to Manali/Naggar and departure.