Maximum Elevation: 4350m
Region: Dhauladhar
Grade : Sternuous
Duration: 12 -14 Days
Day 01: Arrival Delhi -
Meet at the airport and transferred to hotel. Most international flights lands in night-stay in Delhi is recomended.
Day 02: Reaching Jalandhar in PUNJAB.
Hotel stay.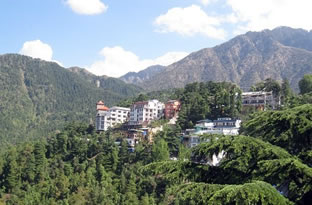 Day 03: Reaching Mcleod Ganj From Jalandhar.
Day 04: Rest Day
Day 05: Mcleod Ganj-Triund:
Now road has reached upto Dharamkot and Triund is high ridge facing Dhauladhar Range. Triund at 2975m is very much famous among people from all overthe world to seek shelter in caves and doing yoga and meditation.
Day 06: Triund-Lahesh Caves: Walking Time 4-5 hrs.
Gradual ascending through pine forest to open meadow and then comes Laka Got which is high altitude pastur and you will find permanant gaddi encampment here. After crossing small boulders, route to Lahesh Cave is a huge one which can house a large party at 4000m.
Day 07: Rest Day before you cross high pass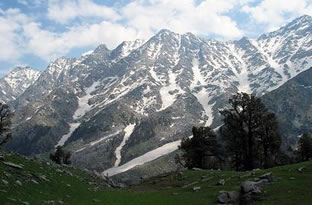 Day 08: Lahesh Cave- Indrahar Pass-Chatru Parao: Walking Time 6-7 hrs.
Have to be slow while crossing pass 4350m. Follow instructions of your leader/instructor. From pass you can see huge range of Dhauladhar, Mani Mahesh Kailash 5656m. After crossing this pass, descending is steep at first 300m and then gradual to Chatru Parao.
Day 09: Chatru Parao- Kuarsi : Walking Time 5-6 hrs.
Gradual descending to Kuarsi which is a shepherd village.
Day 10: Kuarsi-Machetar: Walking Time 6 hrs.
Machetar 1800m is roadhead.
Day 11: Back to Chamba: Traveling
Day 12: Travel for Delhi