Highest Altitude: 5,080m
Duration: 25 Nights and 26 Days

Zanskar, inaccessible for centuries, is unlike anywhere else on earth: A high arid land with fortress-like Buddhist monasteries steeped in myth and rich in imagery. It is also a world where the only way to travel is on foot or by pony. This trek takes us from the Lahaul valley of Himachal Pradesh into the ancient kingdom of Zanskar, where we visit the remarkable cave gompa of Phugtal. The people, the scenery and the challenge make this a truly unique adventure.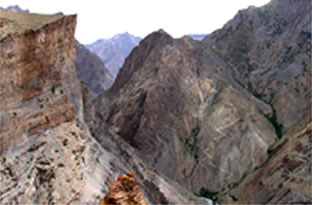 Most of the visitors travel to the remote parts of Zanskar region for trekking. Numerous trails wind their way north from Padum to Central Ladakh, west of Kishtwar and south to Neighbouring Lahaul - all along hard hikes that involve strenuous ups and downs. The two main routes leading in to Zanskar, despite the region's isolation are those from Kargil and from Manali to Padum.
Southern Zanskar Trekking & Tours

Day 01): Delhi
Arrival in Delhi and transfer to a hotel for an overnight stay.

Day 02): Delhi-Chandigarh
Train to Chandigarh, jeep to Pinjore, stay overnight at Hotel.

Day 03): Chandigarh-Manali
Jeep to Manali, on arrival check in at Hotel for an overnight stay.

Day 04): Manali
Day at Leisure in Manali, and overnight stay at the hotel.

Day 05): Manali
Day free in the Kullu valley, to explore the surrounding region.

Day 06): Manali-Darcha
Travel by jeep over to Rohtang Pass (3,978 meter), the gateway to the Lahaul valley, to Darcha.

Day 07): Darcha-Rarig
Trek to Rarig, a prosperous farming village.

Day 08): Rarig-Zanskar Sumdo
Trek to Zanskar Sumdo, where one camps by the shore of the raging Barai Nallah.

Day 09): Zanskar-Shingo La
After crossing the Barai Nallah by Cable Bridge, trek towards Shingo La base camp.

Day 10): Shingo La
Rest and acclimatize with the surroundings.

Day 11): Shingo La-Lakang
Trek over 5,080 meter Shingo La to the high pasture of Lakang.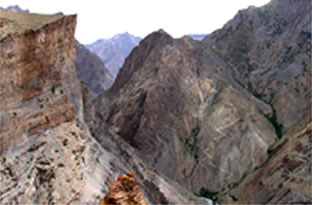 Day 12): Lakang-Kargyak
Continue down the valley in the shadow of the massive arrow-shaped Gumbaranjon (peak) to Kargyak, one of the highest villages in Zanskar.

Day 13): Kargyak-Testha
Trek to the village of Testha.

Day 14): Testha-Purni
Trek to Purni, where the Kargyak and Tsarap rivers merge to form the mighty Lingti Chu.

Day 15): Purni-Phugtal Gompa
Trek to Phugtal Gompa, one of the world's most spectacular sights. Its location, spilling down a sheer cliff face from the mouth of a massive cave, is a staggering one.
Day 16): Phugtal Gompa-Tangtse
Trek to the friendly village of Tangtse, at the base of the gorge leading to Phirtse La.

Day 17): Tangtse-Shingsaw
Trek to Shingsaw, the base camp for pass crossing.

Day 18): Shingsaw-Phirtse La
Trek over Phirtse La (5350 metres) to base camp.

Day 19): Phirtse La-Chumik Marpo
Trek to Chumik Marpo.

Day 20): Chumik Marpo-Sarchu Serai
Trek to Sarchu Serai, on the banks of the Yunan River.

Day 21): Sarchu Serai-Kilang Sarai
Trek to Kilang Sarai, where one will meet the Manali to Leh road.

Day 22): Kilang Sarai-Keylong
Travel by jeep to Keylong, the capitol and administrative center of Lahaul.

Day 23): Keylong-Manali
Continue by jeep over Rohtang Pass to Manali.

Day 24): Manali
Rest day in Manali.

Day 25): Manali-Delhi
Jeep to Kullu, then catch a flight to Delhi, on arrival check into a hotel for an
over night stay.

Day 26): Departure Transfer
Depart- Delhi and transfer to airport for catching a flight to onward journey.